MAS® provides an industry standard network transparent infrastructure for distributed, synchronized, time-dependent media data. Potential clients/users span the full range of cross-platform transport-independent media solutions. A wide range of applications is currently under development. This development process is ongoing and open-ended. Feel free to submit proposals for new applications. Some basic solutions are:
Network Transparent Multi-Media Playback

Finally, a media player that works with the X Window System to deliver high-fidelity media in a variety of formats. Use on your local desktop or over the network to a thin client.
Peer-to-Peer/Multipoint Internet Conferencing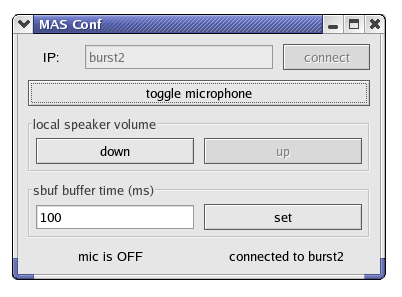 MAS enables low-latency Internet conferencing and telephony. Automatic bandwidth measurements and MAS's dynamically-switchable CODECs insure that the conference quality scales from 56K modems to T1 lines.
Integration with X11


MAS integrates with a compatible X11 server on your desktop. It processes graphic information locally, alleviating the need for network transmission of uncompressed graphical content. Graphic events are easily synchronized with audio events for professional-quality multimedia and accessibility-enabled applications.
MAS Hardware Mixer

Network-transparent control of your desktop computer's soundcard.
Sound Engineering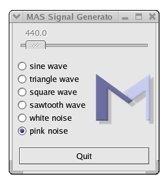 MAS brings professional-quality audio and multi-media to the UNIX desktop.
Complex Perceptual-Time Dataflows

MAS handles network-distributed media processing and intricate format configuration tasks. It continually measures system performance and adjusts its actions depending on the available system resources. The longer it runs, the better it knows your system.